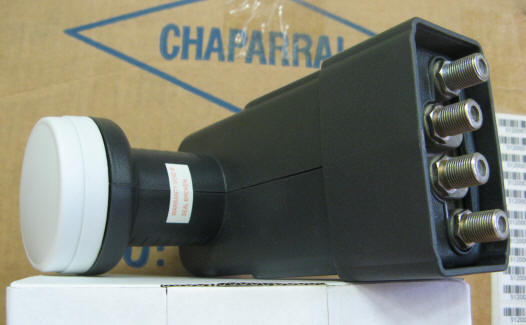 Chaparral Quad LNBF Universal Ku

$39.00
Chaparral's Universal KuLNBF is designed for reception of signals in the frequency range between 10.7 - 12.75 GHz and is fully compatible with all ASTRA satellite systems. The Universal KuLNBF provides internationally renowned Chaparral quality and reliability at a very affordable price. This unit features 22KHz tone switching for selection between high and low band in addition to conventional voltage-selected polarization selection.
Compact and easy to install, the Universal KuLNBF is the ideal solution for offset antennas for both analog and digital satellite signal reception.
The Universal KuLNBF incorporates proven LNB technology for superior noise performance and reliability. Key benefits include high cross polarity isolation and low noise temperature.

2-Year Warranty!
Works with any of the following satellites
Galaxy25, Galaxy 25, Telstar5, Telstar, Telestar 5, Telstar 5, G25, AMC 4, AMC4, Galaxy3C, Galaxy 3 C, G3C, Brasilsat, Brasil Sat, Brasilsat B4, Nahuel, Nahuel 1, AMC6, G17, Galaxy17, Galaxy 17, AMC5, AMC9, AMC16, AM3, Galaxy 28, Galaxy28, Galaxy 11, Galaxy11, Galaxy26, Galaxy 26, Galaxy 3C, G3C, Galaxy25, Galaxy 25, Galaxy 16, AMC4, AMC 4, AMC1, AMC15, AMC 15, AMC 1, AMC18, AnikE1, Anik E1, Wildblue, Wild Blue, Anik F2, AnikF2, Satmex, Satmex5, Satmex 5, Galaxy10, Galaxy10R, Galaxy 13, Galaxy13, Galaxy27, and AMC11