Toshiba BDX5200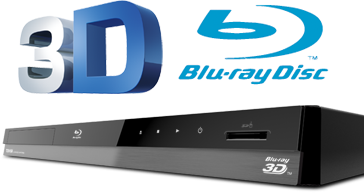 Spin up something special
Discover a whole new dimension of Blu-ray with Toshiba's BDX5200 Blu-ray Disc® Player— your ticket to stunning 3D entertainment and streaming too. This machine gets right to work right out of the box. It splashes 3D movies across your big screen in head-turning 1080p full HD, and pumps your speakers full of luxurious surround sound thanks to Dolby® TrueHD and DTS HD.
Go online to find out more
You'll also see what makes Blu-ray better with BD Live 2.0, going online right from the movie to view filmmaker chats, deleted scenes, short clips and more. And can also view additional onscreen content and enjoy PiP (picture-in-picture) functionality.
Stop dreaming. Start streaming
Take advantage of popular streaming services like Netflix®, CinemaNow®, VUDU™, Pandora™, even Internet radio. And don't hassle building your home theater, because this player comes with USB and HDMI®-CEC ports, and built-in Wi-Fi® gives you clutter-free in-home connectivity. It's time to dive in and discover the richness of 3D—and piped in movies, too, with the BDX5200 Blu-ray Disc® Player from Toshiba.
Toshiba BDX5200 Features
3D capability
Enjoy games and movies in truly immersive 3D.
Internet streaming

Stream content from popular online services like Netflix®, BLOCKBUSTER On Demand®, VUDU™ or Pandora®.
Built-in WiFi

Enjoy convenient in- home connectivity without the cable clutter to stream content from your media server or the internet.
1080p Full HD

1080p Full HD, the highest level of HD picture quality available today.
Energy Star

Toshiba is committed to playing a leading role in helping establish a sustainable society.
Wi-Fi capability

Wirelessly connect to your home network, and easily access your shared media directly on your TV.
MSLP: $179.00 CALL FOR GTV SPECIAL PRICE
ZV-420SL8

DVD Recorder and 4-Head Hi-Fi VCR Combo


DVD±R/RW recording
DVD, DVD±R/RW, audio CD, CD-R/RW, JPEG and MP3 playback
2-way dubbing: DVD to VCR and VCR to DVD
Front AV input and output, S-Video and component video outputs
Title, scene and playlist creation, editing and deletion
Transfer your home movies to DVD
Search (max 40x), frame advance, and slow motion
17 1/8" W x 3 13/16" H x 10 1/4" D
Includes remote
mslp: $199.99
CALL FOR GTV SPECIAL PRICE
CDC-5090

5-Disc Carousel CD Player


5-disc front loading carousel

1 bit audio DAC

8x oversampling digital filter

3 beam laser pickup

Digital coax output

Repeat, random, delete

Headphone output with volume control

Flourescent display with dimmer

Gold RCA jacks

17 3/8" W x 4 3/8" H x 15" D

Includes remote

mslp: $199.95

CALL FOR GTV SPECIAL PRICE