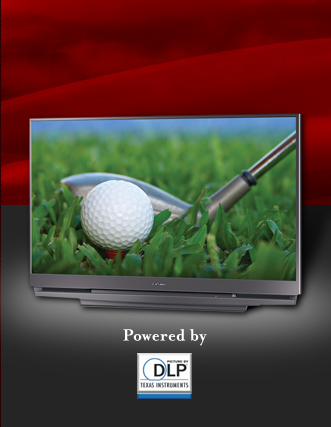 MSRP: $3499.
Call or e/mail GRANBY TV for special price
WD73733
More color, for a more colorful image. Mitsubishi is taking Color to a new level with x.v.Color™ support and its exclusive 6-Color Light Engine.™ x.v.Color is a new standard for HDTV and it enables more color than ever before! Mitsubishi's 6-Color Light Engine™ processes and produces images with six different colors instead of the traditional three to display a wider range of colors, brighter colors and whiter whites. Additional color features such as Color 4D Noise Reduction and PerfectColor™ allow for additional advanced color processing and adjustment. The result is breathtaking realism with vivid, yet natural Color Without Compromise.
Larger screen, not larger spaces. This 73" 1080p DLP® HDTV features Mitsubishi's unique TurboLight180™ lamp system and Plush1080p® processing for both unsurpassed detail in over 2 million pixels and for bright, vibrant images. The stunning High Definition picture is further enhanced by its sleek and modern look. Mitsubishi's sleek, simple design provides more picture with less frame. This year even the 73" 1080p DLP® HDTV gets a thin frame, and a dramatically thinner cabinet. With 1080p and a compact cabinet, get a larger screen and sit closer than ever before! Go ahead and get into the action, immerse yourself.


6-Color Light Engine
Mitsubishi's exclusive 1080p DLP® 6-Color Light Engine generates yellow, cyan and magenta directly for brighter colors, a wider range of colors and whiter whites.